Let's rip the band aid off and discuss the humiliating final play of the Dallas Cowboys loss to the San Francisco 49ers.
Cowboys fans were at their lowest Sunday night for a few reasons. First, a lot of the Dallas faithful have battled Dak Prescott haters all season long. After the Wild Card Round, it looked like the fruits of their labor finally paid off. But then Dak threw two interceptions to the 49ers.
Then, you have the Cowboys continuing to flop in the postseason. This was Dallas' 12th consecutive playoff appearance without advancing to the NFC Championship, which is an NFL record.
Things couldn't possibly get any worse, right?
Wrong. With six seconds left in the game, the Cowboys trailed by a touchdown and were 76 yards away from the endzone. Scoring would've taken a miracle. But it didn't make Kellen Moore's final play call any less embarrassing.
What was Moore trying to do?
In football, when a team needs a touchdown and isn't in range to heave a hail mary, it's common to get a quick pass out and start lateraling the ball back to a new player to avoid being tackled. Rarely does it work, but options are limited when you're tasked with going the length of the field in one play.
With all the offensive linemen lined up like wide receivers, it looked like Moore's plan was to get the big boys downfield immediately to start blocking. Had Prescott thrown the ball to T.Y. Hilton, the Cowboys would've been in position to start gaining yardage.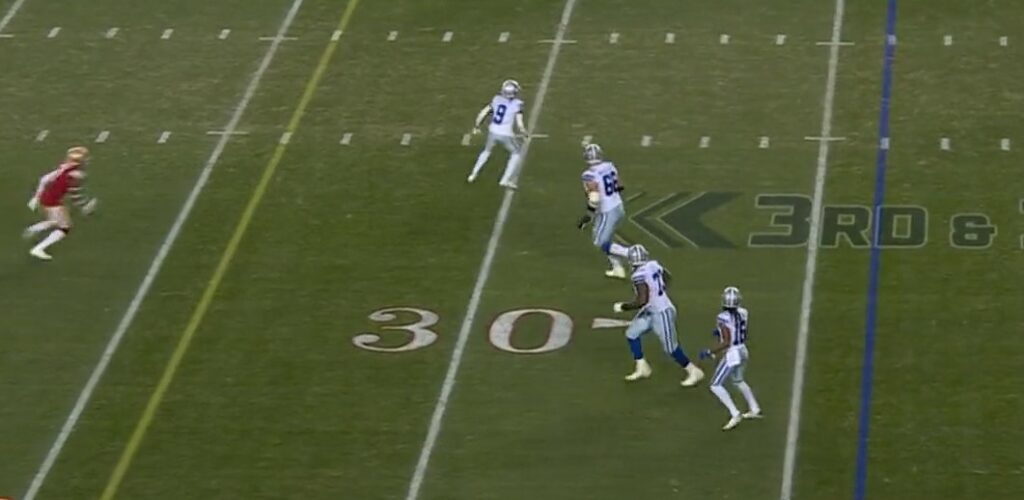 Instead, Dak targeted KaVontae Turpin who immediately got thumped by 49ers S Jimmie Ward. But Turpin wasn't the only player to take a beating on this head-scratching call.
Ezekiel Elliott didn't deserve this
In his prime, Ezekiel Elliott was a workhorse. He led the league in carries twice in his first three seasons.
All that wear and tear caught up with Zeke in his seventh season. He posted career lows in rushing attempts, rushing yards, receptions and receiving yards. But that doesn't justify being set up for failure like this:
49ers LB Azeez Al-Shaair plowed through Elliott like a tackling dummy. And can you blame Zeke? That's got to be the first time in his football career that he was asked to snap the ball.
After the game, Mike McCarthy was asked to explain the thought process behind the ugly playcall. He said:
"I really don't want to get into detail on it, but that obviously wasn't the plan. It's obviously a gadget play or whatever to end it. It's the last-play-situation call we practice."
I sure hope that wasn't the plan, Mike.