Here's how the Dallas Cowboys depth chart looks during the 2022 season:
2022 Dallas Cowboys depth chart, roster – updated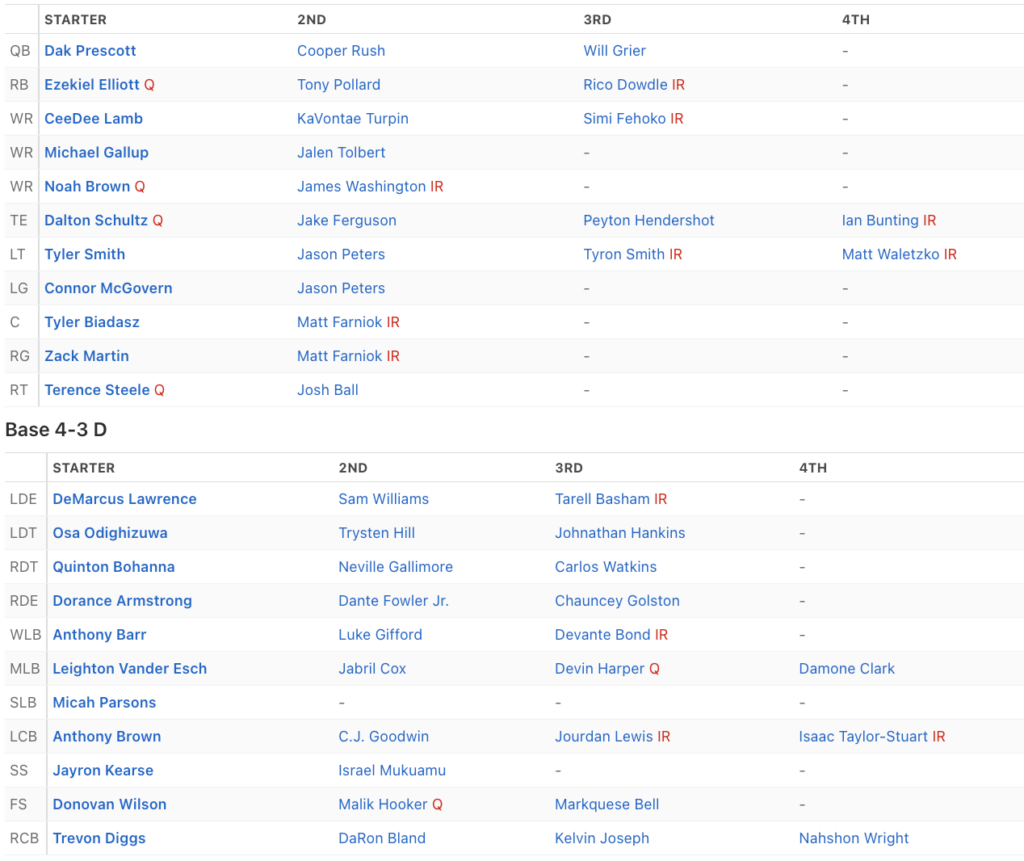 HEAD COACH
McCarthy is going into his third season with the Cowboys and he holds an 18-15 record from his first two seasons. Year one went haywire when Dak Prescott suffered a season-ending injury in week five. But McCarthy was able to right the ship last year, going 12-5 and winning the NFC East. Even still, many were calling for McCarthy to lose his job after a disappointing home loss to the San Francisco 49ers in the playoffs. His detractors have cited poor clock management and play-calling as reasons he should be fired, the same things that cost him his job as the Green Bay Packers head coach.
OFFENSE
OFFENSIVE COORDINATOR
Kellen Moore
The former Boise State QB has spent the entirety of his NFL career in the Big D. Moore served as a backup in 2015, then became the quarterbacks coach in 2018. In 2019 he was promoted to offensive coordinator and has stayed in the role since. He's drawn praise for the work he's done in Dallas and was ranked as the second-best offensive play-caller in the NFL by Pro Football Focus. The 33-year-old is bound to be an NFL head coach soon.
QUARTERBACK
Dak Prescott, Cooper Rush
Dallas hit a homerun by drafting Prescott in the fourth round in 2016. He's entering year seven in 2022 and helped lead the Cowboys high-powered offense in 2021. Dallas led the NFL in total offensive yards per game and points per game last season, and had the second-most passing yards per game last season.
Rush has been a career backup since signing with the Cowboys as an undrafted free agent in 2017. He's appeared in 10 games during that span.
RUNNING BACK
Ezekiel Elliott, Tony Pollard, Rico Dowdle
Elliott and Pollard have been one of the NFL's premier running back duos since Pollard's rookie season in 2019. At points during their tenure together, fans have called for Pollard to become the starter when Elliott struggled. But that won't happen in 2022 as coach McCarthy has already laid out the blueprint for how the offense will utilize both players' abilities without taking snaps from either play.
Dowdle has been with Dallas since his rookie year in 2020. He mainly served as a special teamer that season but didn't get any snaps in 2021.
FULLBACK
Ryan Nall
Nall had been a special teams player for the Chicago Bears the past three seasons before Dallas signed him this offseason.
WIDE RECEIVER
CeeDee Lamb, Michael Gallup, James Washington, Jalen Tolbert, Noah Brown, Simi Fehoko, KaVontae Turpin, Dennis Houston
With former Cowboys receiver Amari Cooper being traded to the Cleveland Browns, Lamb will take center stage as Dallas' WR1. After posting 79 receptions, 1,102 receiving yards and six touchdowns in 2021, Cowboys fans should be excited to see what he does as the top dog.
Gallup also got a bump on the depth chart with Cooper gone. The 26-year-old has been a solid receiver since the Cowboys drafted him in the third round out of Colorado State in 2018. Gallup had an injury-riddled 2021 season where he only appeared in nine games. He may miss early parts of the 2022 campaign while he recovers from a torn ACL in week 17.
Washington and Tolbert will battle during training camp and preseason for the WR3 spot. This year is Washington's first with Dallas after serving as a depth-piece for the Pittsburgh Steelers the last four seasons. His best year came in 2019 when he had 735 receiving yards. Tolbert was a third round pick in the 2022 NFL Draft out of South Alabama. In his senior season, his 1,474 receiving yards were the sixth-most in FBS. This will be a competition to keep an eye on before the regular season.
TIGHT END
Dalton Schultz, Jake Ferguson, Peyton Hendershot
The Cowboys put their confidence in Schultz when they cut Blake Jarwin after the 2021 season. Jarwin missed significant time the last two seasons due to injury, but Schultz's play last year made it an easy decision for Cowboys management. Schultz had the third-most receiving yards and was tied for the most receiving touchdowns in 2021.
Ferguson was drafted out of Wisconsin in the fourth round of this year's draft. He was known mainly for his pass-catching abilities during his time as a Badger, and was an average blocker.
LEFT TACKLE
Tyron Smith, Josh Ball, Matt Waletzko, Jason Peters
Tyron Smith has been a staple with Dallas since going ninth overall in the 2011 NFL Draft. He's an eight-time Pro-Bowler and two-time All-Pro. He's struggled to stay on the field the last two seasons, missing a combined 20 games in that span.
The Cowboys drafted Ball in the fourth round of the 2021 NFL Draft. Ball was placed on the IR with an ankle injury a week before the regular season kicked off but returned in December. He didn't see the field last season but will likely get some action this season if Smith misses time.
LEFT GUARD
Tyler Smith, Connor McGovern
Smith was Dallas' first pick in the 2022 NFL Draft out of Tulsa. Smith was an All-AAC first-team selection in 2021 as a left tackle. His skills need some developing as Smith played in just 18 college games. The plan is to start him at guard and have him learn the ropes before moving to tackle later in his career.
McGovern was a third round pick by Dallas in 2019 and has served as a fill-in starter when others have been out due to injury. He's had ups and downs but overall, hasn't yet proven to be a capable starter in the NFL.
CENTER
Tyler Biadasz, Matt Farniok
Biadasz was drafted in 2020 to back up former Cowboys center Joe Looney. But when Looney went down to injury, Biadasz was called to action. He showed enough that year to win the starting job in 2021. Biadasz played in all 17 regular season games plus the playoff game against the 49ers, making him the only Dallas offensive lineman to do so. He was average last season and with three other centers on the roster, he'll need to continue showing improvement to maintain his spot on the depth chart.
Farniok was the Cowboys seventh round selection in the 2021 NFL Draft. The Nebraska-product saw a majority of his snaps on special teams..
RIGHT GUARD
Zack Martin
Martin, like Tyron Smith, has become a household name for Cowboys fans. The 31-year-old is coming off a Pro-Bowl and All-Pro season, but what was most impressive was his durability. Martin, who is entering year nine, only missed two games last year.
RIGHT TACKLE
Terence Steele
Dallas showed faith in Steele when they opted to cut La'el Collins after six seasons as a starter in the Big D. Collins dealt with injuries and off-the-field issues in the past two seasons, and the Cowboys saw enough in Steele to make him the clear starter heading into 2022.
DEFENSE
DEFENSIVE COORDINATOR
Dan Quinn
The 51-year-old has been coaching football longer than some Cowboys players have been alive. He got his start at the College of William & Mary in 1994, then he joined the 49ers staff in 2001. Quinn has always been known as a players coach and that helped him earn the second spot on Pro Football Focus' list of best defensive play-callers.
DEFENSIVE END
DeMarcus Lawrence, Dante Fowler, Sam Williams, Tarell Basham Dorance Armstrong, Chauncey Golston, Big Kat Bryant, Mika Tafua
Lawrence was drafted to Dallas in 2014 but wasn't a force off the edge until his second season. He made back-to-back Pro-Bowls in 2017 and 2018. Injuries sidelined Lawrence for 10 games in 2021, but he will be looked upon to fill the void left by Randy Gregory, who opted to sign with the Denver Broncos as a free agent this offseason.
Fowler was a stud with the Los Angeles Rams in 2019, recording 11.5 sacks. He then played two disappointing seasons with the Atlanta Falcons where he had a total of 7.5 sacks. After the Falcons released Fowler, Dallas signed him to a one-year deal.
Williams fell to the Cowboys in round two of the 2022 NFL Draft because of an off the field issue during his playing days at Ole Miss. The former Rebel sacked the QB 12.5 times in 2021, setting a single-season record at his old school.
DEFENSIVE TACKLE
Neville Gallimore, Osa Odighizuwa, Trysten Hill, Quinton Bohanna, John Ridgeway
Gallimore is entering his third season with the Cowboys after his third round selection in 2020. He missed 12 games while sidelined with an injury in 2021, but during OTAs he told reporters he gained 16-pounds of muscle to prepare for a season where he aims to stay off the IR.
LINEBACKER
Micah Parsons, Leighton Vander Esch, Jabril Cox, Anthony Barr, Devin Harper, Luke Gifford, Damone Clark
Despite being selected 12th overall in the 2021 NFL Draft, Parsons exceeded all expectations in his rookie season. The Harrisburg, Pennsylvania-native tallied 13 sacks and 84 tackles, ranking first and second, respectively, for Dallas last year. Parsons also earned Defensive Rookie of the Year honors along with an All-Pro and Pro-Bowl selection.
Vander Esch had been written off by many Cowboys fans after missing a total of 13 games combined in 2019 and 2020. But he played in every game in 2021 and had the third-most tackles on the team. If he can stay on the field this season, he'll be a key member of the defense.
CORNERBACK
Trevon Diggs, Anthony Brown, Jourdan Lewis, Kelvin Joseph, Nahshon Wright, C.J. Goodwin, DaRon Bland, Isaac Taylor-Stuart
Diggs took the NFL by storm last year. His 11 interceptions and 142 return yards were the most in the NFL. But he also allowed 1,016 yards in coverage. Some think he's the best cornerback in the game and others think he's overrated. But this is only Diggs' second year as a pro and he converted from wide receiver to cornerback in his sophomore year at Alabama. This season, expect Diggs' to be a more well-rounded cornerback.
Brown had a solid showing in 2021. His 71 sacks were the fifth-most on the team and his three interceptions tied him for the second-most. 2022 will be Brown's seventh season in Dallas.
After limited usage in his first three seasons, Lewis emerged as Dallas' top slot cornerback in the 2020 season and hasn't relegated his role since. His 61 tackles and three interceptions were the sixth and second-most, respectively, for Dallas in 2021.
SAFETY
Jayron Kearse, Malik Hooker, Israel Mukuamu, Donovan Wilson, Markquese Bell
In four seasons with the Vikings and one season with the Detroit Lions, Kearse started a total of 12 games. In 2021, his first year with the Cowboys, Kearse excelled under his new defensive coordinator. He led Dallas with 101 tackles and snagged three interceptions. Not too shabby for a former seventh round draft pick.
Hooker is expected to be Dallas' starting free safety in 2022. He was selected 15th overall by the Indianapolis Colts in the 2017 NFL Draft. But after four injury-riddled seasons, the Cowboys signed Hooker as a free agent before the 2021 season.
SPECIAL TEAMS
SPECIAL TEAMS COORDINATOR
John Fassel
Fassel has been coaching special teams in the NFL since 2005 and he's been the Cowboys' ST coordinator since 2020.
KICKER
Brett Maher
Maher is a familiar face as he returns to Dallas after serving as the Cowboys kicker in 2018 and 2019.
PUNTER/PLACE HOLDER
Bryan Anger
Anger spent a total of nine seasons with the Jacksonville Jaguars, Tampa Bay Buccaneers and Houston Texans before joining the Cowboys in 2021. Anger averaged 48.4 yard per punt last season, good enough to land him on the All-Pro second-team and a Pro Bowl selection, both the first of his career.
LONG SNAPPER
Jake McQuaide
The 2022 season will be McQuaide's 12th as a pro. Before signing with the Cowboys in 2021, he spent 10 years with the St. Louis/Los Angeles Rams. He earned back-to-back Pro-Bowl selections in 2016 and 2017, the only two of his career.